Losing money down the drain: How manufacturers can unlock product loss savings
Manufacturing sites typically lose 2-7% of product during processing*.
Product loss in manufacturing can be extremely costly for a site; these losses are typically difficult to address since it is hard to quantify where and when product is lost in the manufacturing process.
Product loss incurs costs in four main ways:
Cost of raw materials
Cost of energy for product processing up to the point of loss
Increased onsite effluent treatment costs
Increased cost of trade effluent
The first step in any cost reduction programme is understanding where the cost is being incurred and being able to quantify it. Verco's effluent monitoring solution is designed to be retrofitted to existing drainage systems allowing a simpler installation when trying to find and diagnose product loss. With this information sites can increase production output while reducing production costs and environmental impact.
A two pronged solution to waste reduction – how it works
Verco's solution enables the site operators to react in real-time to stop the waste occurring while storing the data online in our monitoring system Carbon Desktop. This also allows analysis at a later date by the site Continuous Improvement and process teams. Trends in effluent data can be compared alongside production and energy profiles for different machines, lines or departments.
Verco carries out an initial review to identify the most appropriate monitoring locations and make a recommendation on the optimum solution to balance cost and data quality. Where existing equipment already exists, we will integrate with this to minimise the project cost.
Following installation, we commission the real-time system with a range of alerts and reports to allow issues to be responded to immediately and reported and quantified for retrospective analysis. The system uses an intelligent algorithm and a simple traffic light system to combine the information from all monitoring locations and set varying levels of alerts depending on the amount of product loss.
Example schematic showing proposed metering points:
(A=Automatic Meter, V=Virtual Meter)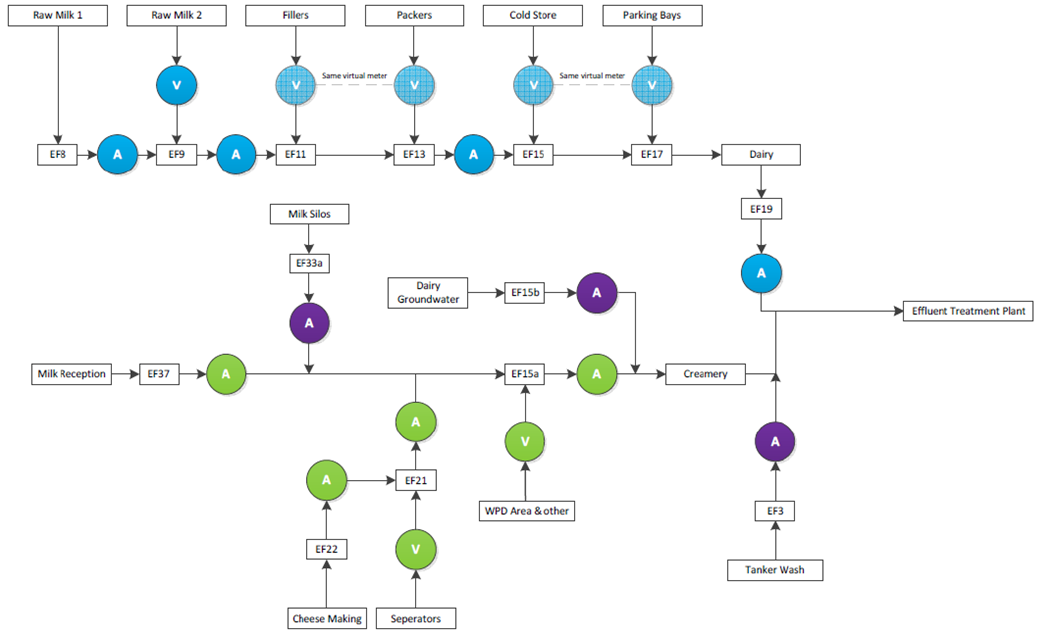 A number of our clients are seeing the benefits of this system with reduced product loss and reduced utility costs.
Please contact us for further information and an initial consultation.
Tim Kay MEng (Hons) CEng CEM FEI
Commercial Director
Verco
m: +44 (0)7800 664 781