Building Optimisation plays a lead role in world-leading market transformation
Over the last ten years, Australia has seen a 40% reduction in energy intensity of its total building stock. Critical to this success was addressing how the operational performance of buildings was managed. By adopting the same strategies, the UK has the potential to achieve similar results.
Data for insightful energy use
We identify and provide recommendations to improve performance data available from a site. We then use the best available technology to streamline data collection for billing and reporting, and to improve performance analytics, including through automated fault detection.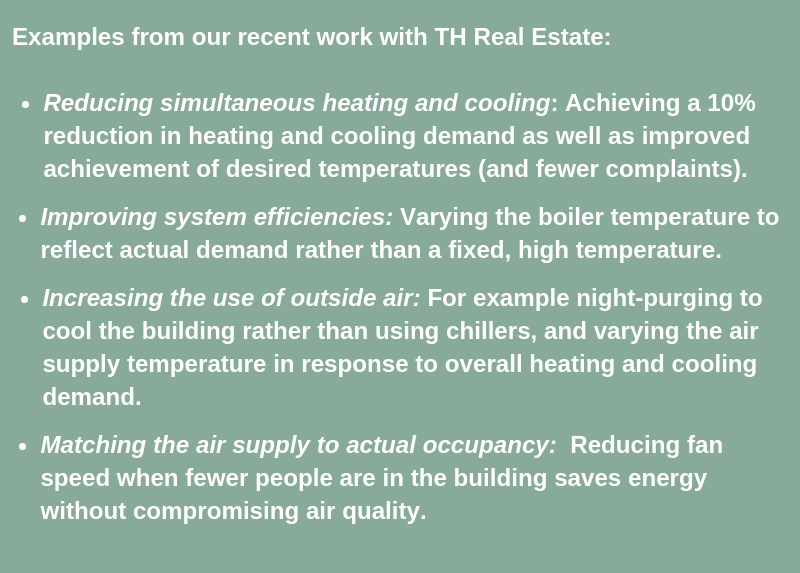 Cultural focus for long-term benefits
To develop a performance based culture, Verco works along the property and facilities management supply chain. We identify how to improve and embed alignment with building performance. We then empower Facilities Managers to use the technology and data to make further, sustained improvements. This includes assisting their engagement with tenants.
Scoping Audit: A low-commitment trial
For a powerful initial insight into how improved performance will benefit your business, Verco can conduct a low-cost Scoping Audit.
Our emphasis is on a two-way conversation with you. The Audit provides the robust data and insight needed for commercial decision making.
The Scoping Audit covers:
Maintenance: Current practice and opportunities to better align with performance.
Data: Current metering and BMS infrastructure and how this could be improved and better used.
Opportunities: An initial indication of opportunities to improve the performance of, or upgrade existing equipment.
Click here for more information or contact us to find out more about how we can work with you and your business.