Stand and Deliver: A Successful Net Zero Transition

Last week, Verco sponsored the Business Green Net Zero Festival. Dave Worthington, Verco's Managing Director presented a Spotlight session during the event: Stand and deliver: a net zero transition.
The Net Zero Festival attracted over 1220 visitors, showcased 50+ exhibitors and 80+ talks and presentations. Five of Verco's experts were at the Net Zero Festival welcoming visitors to our stand and discussing the net zero journey- our favourite topic!
You can watch a recording of Dave's presentation:
Spotlight session: Stand and deliver a net zero transition.
Drawing on extensive experience from working with leading organisations in the real estate, retail and manufacturing sectors, Dave provides top tips for getting things moving quickly and examples of how businesses have used their transition plan to leverage action.
The presentation covers:
Three Key ingredients of a successful Implementation plan:
Data - The importance of data quality and the risks of using estimations.
People - How to build knowledge capacity across the business to ensure that all areas of a business plays their part to achieve a successful net zero transition. How the backing of senior leadership can make a great difference, and the need to balance ambition with achievability.
Projects - How early action can have great benefits and how to achieve the greatest cumulative savings by the target date. Dave highlights some useful tools in particular the RTC heat pump feasibility tool and Marginal abatement cost (MAC) curves.
Key Take-away points:
Good and complete data is the foundation of a successful net zero strategy. There should be clear KPI's for data quality and completeness.
Everyone can contribute to a successful transition to net zero. Make sure everyone understands what role they can play.
Focus on the journey rather than the destination to achieve the greatest cumulative benefits that you can.
Our team of experts have the skills and knowledge to support you on your net zero journey, so please contact us if you have any questions.
Contact us here for further information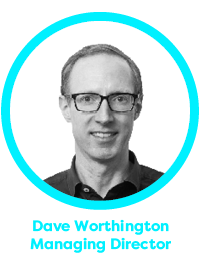 Dave helps businesses identify and realise economic benefits from a path to net zero emissions. He is a leading technical and commercial advisor on net zero strategies, energy efficiency, distributed energy systems, building integrated renewables, buildings and infrastructure policy development.
Dave has spoken at events across Europe on energy efficiency financing and project development. He has been involved in many industry working groups on the topics of low and zero carbon buildings with the Better Buildings Partnership, UK Green Buildings Council and Zero Carbon Hub. He is currently involved in the development of the UK Net Zero Carbon Building Standard and UKGBC's Commercial Retrofit Task Group.
Dave has supported Arla Foods with the development of a zero carbon dairy and directed the Building Energy Efficiency Survey for BEIS.