A comprehensive Building Optimisation Service from Verco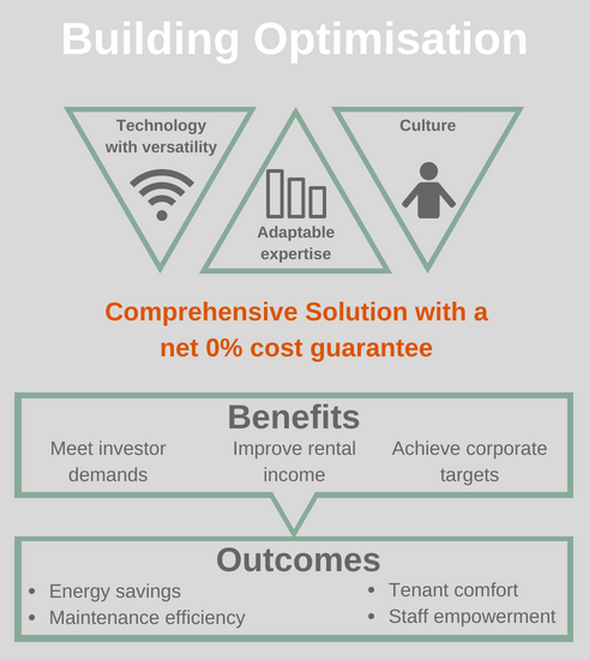 Verco's Managed Performance Service comes with the reassurance of a net zero cost guarantee. With the dual focus on both culture as well as technology, our service delivers on energy savings and:
Meets Investor Demands
Improves Rental Income
Achieves Corporate Targets
Technology with versatility - Our service is not tied to any particular hardware or software. We will independently review your needs and use the technology that is most appropriate to the situation, whether that requires installation of cutting-edge technology or simply more effective use of what is already in the building.
Adaptable expertise - Our industry leading team can interpret your data for strategic insight and integrate this with the environmental reporting requirements of your business.
Culture - By working across your business, engaging multifunctional teams (from asset managers to site contractors), we will uncover and remove the systemic problems that are often the main blockers to effective optimisation. We will empower your staff and support Facilities Managers to achieve sustained, self-sufficient improvements.
Examples from our projects with TH Real Estate:
Energy Savings: £22k per annum energy savings have been achieved since March, with a total saving of £35k+ per annum anticipated.
Maintenance efficiency: Moving to a review of equipment performance data proactively identifies units that require investigation. This has improved targeting of resources and will reduce plant wear.
Verco is at the cutting edge of building optimisation. We are partners in leading industry initiatives:
Better Buildings Partnership's Design for Performance programme.
The Alliance for Deep RENovation.
Click here for more information
contact us
Tom Randall
This service and guarantee are implemented through the established global standard framework (International Performance Measurement and Verification Protocol) for measuring and verifying energy use reductions. IPMVP is administered by the Efficiency Valuation Organisation www.ipmvp.org