Energy saving in your business can start right away!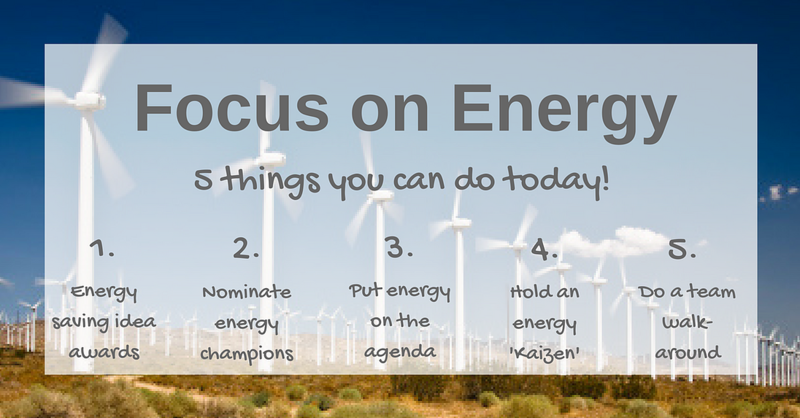 Up to 25% of energy wastage can be prevented by making energy use a focus in day-to-day operations. Verco facilitates this by drawing on our suite of tried and tested activities and tools to engage your teams and provide any necessary training. Our structured 'Focus on Energy' programme requires less investment than alternative solutions and delivers a 5-10% utility cost reduction. Engagement and empowerment of your staff can mean that there are continuous and sustained improvements in energy use across the business.
A focus on energy saving in your business can start right away. Here are five things you can do today:
1. Set up an incentivised energy saving idea award scheme
Your team members and front-line staff have lots of good ideas, but is there a clear channel to capture them?
Schemes provide a clear process, motivation and recognition to draw out this benefit
Monthly or quarterly prizes for best suggested ideas
2. Nominate energy champions
There will be individuals in your team who are especially motivated to save carbon, energy and 'do the right thing'
Identifying and empowering these individuals will facilitate generation of additional ideas and they are more likely to come to fruition
Try to appoint one energy champion per key operational area to generate healthy competition
3. Put energy on the agenda!
Incorporate energy reviews into existing weekly / monthly operational meetings
Use simple metrics that non-technical personnel can understand
It also provides energy champions with a platform to share success stories
4. Hold an energy 'Kaizen'
Kaizen is a Japanese term which literally means "improvement"
The aim is to get individuals from a broad range of departments and technical capabilities to discuss and produce a list of energy saving ideas
It has the co-benefits of building team working and forging new inter-departmental relationships
5. Do a team walk-around
Sometimes the most effective action is to get down to the shop floor and review ideas that present themselves
Choose a different department each month
Personnel who are less familiar with plant areas can act as a fresh pair of eyes and identify ideas that might be missed on a day-to-day basis or challenge accepted practices
You are likely to uncover some quick wins such as equipment idling whilst not in use or lights on in unoccupied areas.
Click here for more information about 'Focus on Energy'
Make an enquiry