UK transition plan disclosure framework launched at COP27

You may be forgiven for failing to notice the launch of yet another climate disclosure framework at this years' Conference of the Parties in Sharm El-Sheikh. One year ago, those following the corporate net zero agenda were digesting the SBTi's new Net Zero target-setting standard, which was launched just before COP 26 and provided the first robust definition of what net zero actually means for corporates. However, COP27 has precipitated another announcement which should be drawing the attention of UK-based companies.
On Tuesday 8th November the Transition Plan Taskforce (TPT) released its draft disclosure framework and implementation guidance, signaling the start of a consultation phase expected to last until January 2023. First set up by the UK Treasury in April 2022, the TPT has a mandate to develop a 'gold standard' for companies seeking to disclose their plans to transition to a net-zero economy. The framework builds on recent work from the Glasgow Financial Alliance for Net Zero (GFANZ), an initiative spearheaded by Mark Carney which represents an estimated $130tn in assets. The group recently published its own document 'Expectations for Real economy Transition Plans1' which describes the key components of a low carbon transition plan from the perspective of financial markets. It is no surprise to see that the new TPT framework is strongly aligned with the initial GFANZ guidelines.
Why is this significant?
In the UK, large organisations are already expected to report information in alignment with the recommendations of the TCFD. This is a condition of FCA regulations which apply to listed companies and regulated firms. As of April this year, large privately owned companies are also be obliged to report in accordance with the TCFD. The TPT framework is designed to support report preparers and corporate boards in setting meaningful, ambitious and credible plans for meeting their climate commitments. Under existing TCFD reporting obligations, many UK companies will already be considering how best to structure their reporting in these areas, and the new framework and guidance will be a critical resource.
The TPT have published four documents: the disclosure framework, implementation guidance, a technical annex, and a summary infographic. It has also announced the launch of a digital sandbox in which it will work directly with preparers and users to gather practical feedback on the implementation of the framework. As the first national framework for low-carbon transition plans, the market reaction to these guidelines will be watched with interest by policymakers and financial markets around the world. The TPT framework already has the backing of key stakeholders, with regulators, investors and civil society all directly involved in the development.
What is a net zero transition plan?
The TPT define a transition plan as something which contributes to, and helps an organisation prepare for, a rapid global transition towards a low GHG-emissions economy. The central premise is that it is a business tool, and should therefore be integral to an entity's overall strategy. As such, the contents of a transition plan should include the high-level ambitions to mitigate and manage climate change, short- medium- and long-term actions to achieve these ambitions, and robust governance and accountability mechanisms to support the delivery of those actions. In addition to this, there must also be an acknowledgement of the ways in which these actions may impact the natural environment and key stakeholders such as the workforce, supply chains, communities, and customers. Measures to address material risks and opportunities are therefore also considered essential components of a low carbon transition plan.
When engaging with transition planning, organisations must therefore ensure that the actions towards decarbonisation, responses to climate-related issues, and contributions to accelerating an economy-wide transition are central channels of the process. This is codified in the framework and guidance under a banner of ensuring a strategic and rounded approach. Elements of the framework structure remain unchanged from the GFANZ guidelines, and companies are still expected to report according to five elements as part of their planning process.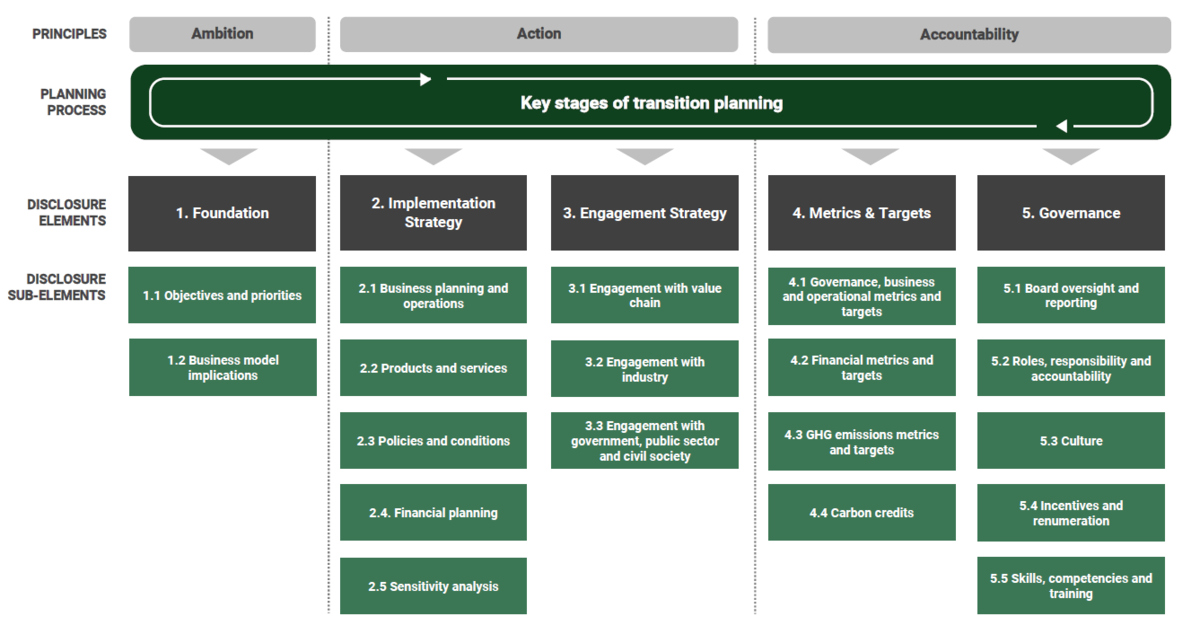 Engaged readers will, however, be interested to see some changes at the sub-element level from the GFANZ guidelines. A key development is the expectations around disclosure timelines, with report preparers now instructed to disclose transition plans according to a three year cycle, with interim reporting against metrics and targets via the financial report in years one and two.
Looking ahead
COP27 is barely underway and there may yet be further developments – GFANZ has already come under scrutiny for recent concessions made relating to its membership criteria relating to new coal project financing. Previously strictly aligned with the UNFCCC Race To Zero initiative, this split may give cause for some to question its authority in setting net zero ambition.
More broadly, it will be interesting to see how the TPT framework is received internationally. Although the intended audience are UK firms, the UK's status as a global financial centre means that its influence extends beyond its borders. Other regions, which are already looking to increase their own corporate sustainability reporting (see the EU CSDR) and climate-risk disclosure (see the US SEC's draft proposal) requirements, may well see benefits in adopting or developing frameworks aligned with the TPT framework in the near future.
Unsurprisingly, numbers of TCFD-aligned disclosures have soared in light of recent legislation, a trend which is expected to continue as more jurisdictions bring in their own regulation. In the recent 2022 TCFD progress report, 90% of report users surveyed claim to have incorporated climate-related financial disclosures into their decision-making (with two thirds specifically using them to price assets or determine rates). However, the landscape of climate reporting disclosures is constantly evolving. Looking ahead, the UK Green Finance Roadmap published in 2021 has made the direction of travel clear. Speaking at COP26 in Glasgow, the then-Chancellor Rishi Sunak said that "the UK will go further in becoming the world's first net-zero aligned financial centre. This means we are going to move towards making it mandatory for firms to publish a clear deliverable plan on how they intend to decarbonize and transition to next-zero." The launch of the TPT framework is a significant step towards realizing that aim, and with current UK TCFD reporting obligations expected to tighten with the arrival of new Sustainability Disclosure Requirements (SDR), businesses should be planning how best they can demonstrate to markets that they are serious about achieving their climate commitments.
How to prepare
The TPT plan to publish a range of sector-specific guidance in 2023 intended to supplement the existing framework and guidance. However, the current 'sector neutral' framework is designed to be applicable to all relevant businesses, and there are several enabling works which companies can start today. In addition to our ongoing work helping clients on the journey to net zero, Verco will be supporting companies in developing their own low carbon transition plans.
If you are interested in learning about our work delivering stakeholder compliance briefings, assessing climate strategy against framework criteria, or anything else relating to transition plans, please contact Dan Crewe, Senior Consultant (Aim For Zero).