Verco's London team volunteer at Stepney City Farm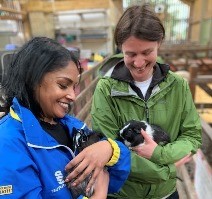 Having thoroughly enjoyed our trip in 2018, the Verco London office once again spent a day volunteering at Stepney City Farm.
Stepney City Farm is a three acre working farm in the heart of Tower Hamlets, and is an educational charity which works towards improving lives through farming, focussing on high-welfare, environmentally friendly and sustainable farming practices. Its animals include chickens, ducks, geese, donkeys, goats, sheep, pigs, as well as smaller animals such as rabbits.
Volunteering at Stepney City Farm and carrying out urgent seasonal tasks and projects allows them to save their valuable funds and keeps the farm free to everyone.
After being introduced to the animals around the farm – including obliging one of the pigs with a belly rub - Verco volunteers started work collecting and chopping up nettles to make valuable liquid fertiliser for use on the farm. A few nettle stings later, we moved on to the important job of safely removing the very poisonous plant, Dog's Mercury, which has spread across the farm, together with stripping and sanding wooden signs which are used for labelling planted areas for children, ready for painting. We finished the day with a relaxing and rewarding petting session with the rabbits, ferrets and guinea pigs.
The team very much enjoyed the day together - despite the rain - and we all felt a real sense of achievement in doing something of tangible benefit to the local community. A quick trip to the pub for a beer afterwards felt well-earned.
Find out more about Stepney City Farm here.