The SBTi's Forestry, Land Use and Agriculture (FLAG) – implications for corporates

At the start of this year the Science-Based Targets Initiative (SBTi) ran a consultation on draft guidance for companies in land-intensive sectors to set Forestry, Land Use and Agriculture (FLAG) science-based targets. The publishing of the final guidance has been delayed several times, but guidance is now due to be published sometime in Q3 2022.
This article summarises the main points and implications for companies interested in setting FLAG targets, or likely to be required to do so as part of their SBT commitments, based on the consultation and FAQ information published to date.
1. What are FLAG emissions?
Forests, land-use and agriculture (FLAG) sources account for nearly a quarter of global annual greenhouse gas emissions. They also have a huge impact on the sequestration of carbon from the atmosphere back into trees, soils, and crops. Typical corporate sources of FLAG emissions are emissions from livestock, field emissions from fertiliser use (N2O), burning of agriculture waste, land use change and deforestation.
2. Who will SBTi's FLAG target guidance be relevant for?
The new target guidance is aimed at companies with activities in the forests, land-use or agriculture sector that plan to set emissions targets in line with the Paris Agreement. The new guidance is designed to complement the Net Zero Corporate Standard launched by SBTi at the start of 2022. The consultation document proposes that the criteria will apply to the GHG inventories of companies who:
generate at least 20% of their total revenue from SBTi-designated FLAG sector activities; or
produce at least 20% of their total emissions (across all scopes) from FLAG-related sources.
Importantly, the FLAG guidance is potentially relevant for the scope 3 GHG inventories of companies involved in retailing, food and drink, packaging, hospitality, textiles, apparel, and many other sectors – even where they are not directly involved in FLAG activities themselves.
For companies with existing targets that have already been approved, the new FLAG criteria will be added to the list of considerations needed for when the company comes to revisit their target ambition or baseline. There is no indication of the SBTi applying the new guidance retroactively on targets which have already been validated, but yet to reach a 5 year review milestone.
3. What will companies have to do?
The SBTi proposes two approaches for setting science-based FLAG targets and has been collecting feedback from companies, NGOs and academics through a now-closed consultation, and piloting with a select group of companies:
FLAG sector approach: This is a general approach for companies with diversified emissions across FLAG emissions sources. It follows the standard % reduction against a baseline model, but the absolute reduction rate is slightly less aggressive than the standard Net Zero Corporate standard, reflecting the particular challenges of decarbonising agricultural emissions in particular. The near term absolute target is set as -3.5%/year and the long term target -80%, as opposed to -4.2% and -90% respectively.
FLAG commodity approach: This is an additional option for 9 agricultural commodities (beef, diary, chicken, pork, corn, wheat, soy, palm oil, rice) where emissions associated with any one commodity exceed 10% of total FLAG emissions. These targets also follow a % reduction from a baseline model for near term targets, but expressed as emission intensity (tCO2e/tonne of product), ranging from -2.6% a year for beef to -3.8%/yr for soy. Timber and wood fibre is the exception, where a SBTi commodity target tool has to be used to set a target, if emissions exceed 10% of the FLAG total.
These approaches will join the list of other SBTi-approved methods for energy and industrial targets, such as physical and economic intensity, and the Sector Decarbonization Approach (SDA).
Companies familiar with the existing target-setting guidance will see parallels in the criteria outlining target boundaries and coverage (at least 95% for scopes 1 and 2, and at least 67% for scope 3). Similarly, ambition should be consistent with other SBTs meaning at least 1.5C and between 5 to 10 years in the future.
A key difference is the distinction now drawn between FLAG and non-FLAG emissions. This is important as scope 1 and 2 emissions up to the farm gate (or until the yard for forestry products) are now designated as FLAG emissions in line with current best practice. For companies which meet the FLAG target criteria with existing scope 1 and 2 targets, this will need to be taken into account when submitting recalculations to the SBTi.
Accounting
The draft FLAG guidance is not a comprehensive accounting standard, and only outlines the criteria companies will need to follow in order to set their targets themselves. For instance, it is clear that land-related emissions, removal and storage must all be accounted for, for example:
CO2 emissions from livestock feed
N2O and CH4 emissions from land management, as well as CO2-related to fertiliser production and farm machinery
Carbon sequestration from better forest management or agroforestry
It is also clear from the draft guidance that SBTi expect removals and emissions to be reported separately for both the baseline and annual accounts, and that targets should be reported at aggregate and sub-target level (i.e. by commodity if relevant). Emissions and removals from bioenergy are to be covered under existing SBTi criteria. The scope of the emissions is up to the farm gate or up to the timber yard, i.e. processing of FLAG commodities will fall into the standard scope 1, 2 and 3 GHG inventories and target setting.
However, companies looking for concrete instructions for calculating their FLAG inventory may be disappointed in the latest draft guidance. An update to the GHG Protocol agricultural accounting guidance is expected in early 2023, with a draft planned sometime in 2022. Until then companies are recommended to follow the existing resources provided in the GHG Protocol's agricultural guidance, as well as other well established methodologies (such as Quantis's guidance for measuring supply chain emissions from land, forests and soils).
Deforestation commitment
In addition to the new accounting requirements, companies will now be required to make a formal commitment to achieving zero deforestation in their value chain by their target date. This will be a pre-requisite for FLAG target approval. Companies are also encouraged to align their deforestation targets with the Accountability Framework Initiative (AFI), with leaders expected to extend their commitments to cover the elimination of land conversion and peat burning.
4. When will they have to do it?
The final FLAG guidance will be published in Q3 2022, whereupon relevant companies looking to set targets will be encouraged to use it.
After a grace period (likely to be 6 months) the new guidance will become mandatory, and the SBTi will not approve targets covering FLAG-related emissions that do not meet the new criteria. Qualifying companies will also be expected to set FLAG targets and target review milestones i.e. for the first time 5 years from the original target validation.
5. What are the implications for Net Zero strategy and target setting?
In our opinion the main issues and implications are:
All companies with FLAG emissions are going to have to update their GHG inventories in line with the forthcoming GHG Protocol Land use guidance being developed in parallel (and slightly behind) the SBTi guidance.
Those companies that meet the SBTi's FLAG emission thresholds will have to incorporate FLAG targets into their Net Zero targets either as they set targets for the first time, or at their next target review point.
Companies in land-intensive sectors are likely to already have some emissions that fall within the FLAG target scope in their standard GHG scope 1, 2 and 3 inventories e.g. enteric emissions from cows or field emissions from fertilisers. These emissions will be subject to a less stringent emission reduction pathway than the SBTi's standard mixed-sector pathway.
The proposed FLAG targets are based on a 'reduction against a baseline model', which may make it harder for companies that have already acted to meet the targets than those that haven't.
The inclusion of carbon sequestration (e.g. carbon in soils and woodland) offers further options within value chains to meet net FLAG GHG reduction targets. Note that, as FLAG emissions are targeted separately, carbon sequestration cannot count towards achievement of a company's core energy and industrial emissions SBT.
For support in understanding the SBTi's draft requirements, the SBT process more widely or any other queries on the journey to net zero please contact Tim Crozier-Cole, Head of 'Aim for Zero' Corporates.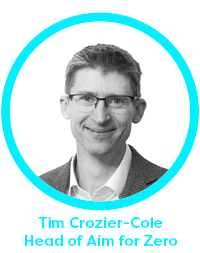 Join our mailing list! Keep up-to-date and receive our news and resources by email: